RESTAURANT DINE IN AND TAKE OUT
IS CURRENTLY UNAVAILABLE
 Upcoming Events
POSH @ The Scranton Club
is proud to announce
our calendar of events for AUGUST – SEPTEMBER
Wednesday, August 2nd
Wine pairing at 5:30PM 
3 wines and 3 food pairings for $20 pp
POSH Restaurant will be open from 5 to 8PM for dine in
Friday, August 4th
First Friday
$5 Signature Martini
POSH Oak Bar will be open from 5 to 8PM for dine in
Wednesday, August 2nd
Wine pairing at 5:30PM 
3 wines and 3 food pairings for $20 pp
POSH Restaurant will be open from 5 to 8PM for dine in
Friday, September 1st
First Friday
$5 Signature Martini
POSH Oak Bar will be open from 5 to 8PM for dine in
Wednesday, September 6th
Wine pairing at 5:30PM 
3 wines and 3 food pairings for $20 pp
POSH Restaurant will be open from 5 to 8PM for dine in
CALL 570-955-5890 POSHScranton.com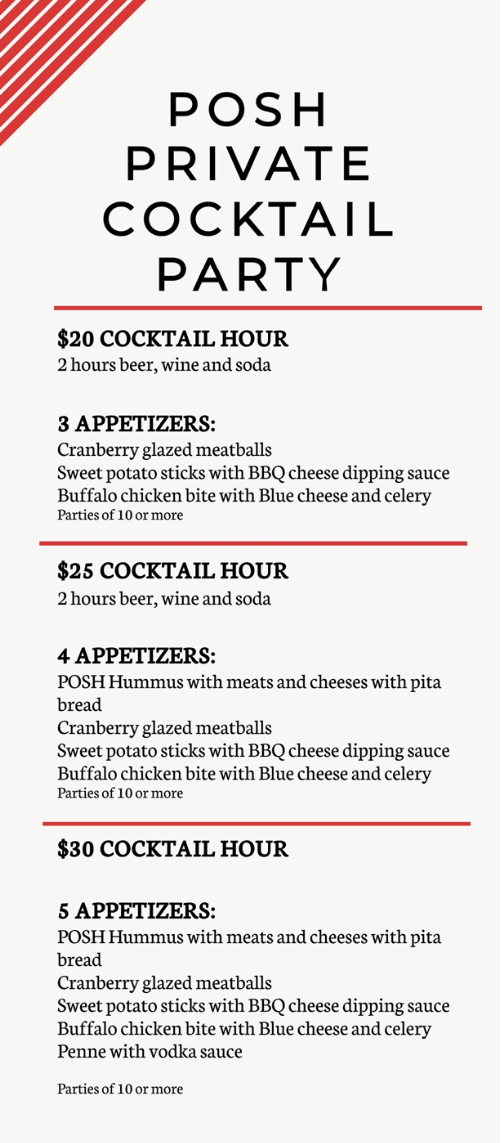 It is with heavy hearts that Josh and I announce that we are permanently closing POSH Restaurant effective Saturday February 12th.  Until then we will continue to be open for dinner Wednesday through Saturday with our last dinner service being Saturday February 12th. 
Our last brunch service will be Sunday February 6th.
Private Events:
We will continue with private event bookings both existing and new. We continue to be a destination for weddings, rehearsal dinners and showers and we look forward to working with our clients in 2022.  
Gift Cards:  
Gift cards can be used between now and February 12th. 
After that date gift cards can be used for private events both at POSH and at The Colonnade. 
Gift cards are valid for 5 years from the date of purchase.
We are disappointed that we have had to make this very difficult decision and we are extremely grateful to our managers and staff who have worked so hard to keep our doors open throughout the ongoing pandemic.   We are grateful to the community for the support we received at the onset of the pandemic and throughout the past year and a half. 
Josh and I look forward to working on private events at POSH, The Colonnade and throughout our region and sharing the joy of celebrating life's mile stones with our customers and friends.
Thank you for 10 great years! 
Paul & Josh
POSH Events Group | 401 Jefferson Avenue, Scranton, PA 18510